YOU REFER – WE DO THE WORK
If you have a digital wedding stationery shop you are probably aware that after brides and grooms come to you for a design, they are tasked with finding a professional printers. Our Knot and Fleur referral  program is all about rewarding you for spreading the love and recommending us to your clients for their printing needs.
---
HASSLE-FREE PROCESS 
---
ABOUT THE PARTNERSHIP
WHAT IS THE KNOT & FLEUR REFERRAL PROGRAM?
Our Referral Program is an open collaboration with our bunch of lovely independent digital designers. Through this collaboration, you benefit from a 10% commission on any orders made via your unique affiliate link. This link takes your brides and grooms to our Online Print Shop where they can book our services to print the design that they have purchased from you.
WHAT ARE THE ADVANTAGES OF THE PARTNER PROGRAM?
The best part of our affiliate program is that you will receive commission not only for any purchases made within our Online Print Shop but also for any other purchases made within our website whether it is an hexagon wedding arch or favours.
We know that sale wouldn't have happened without you, so you deserve to be rewarded!
DO I HAVE TO PAY ANY FEES TO ENTER THE REFERRAL PROGRAM?
This partnership doesn't cost a penny! All you need is your uniqueness and creativity!
HOW DO I BECOME A PARTNER?
Please use the application at the bottom of this page. You will receive an answer within 48 working hours. Please, make sure you add your website or social media link so that we can have a look at your work.
HOW CAN I TRACK MY REFERRALS?
Once your application has been approved you will have full access to your affiliate dashboard which will look like the below: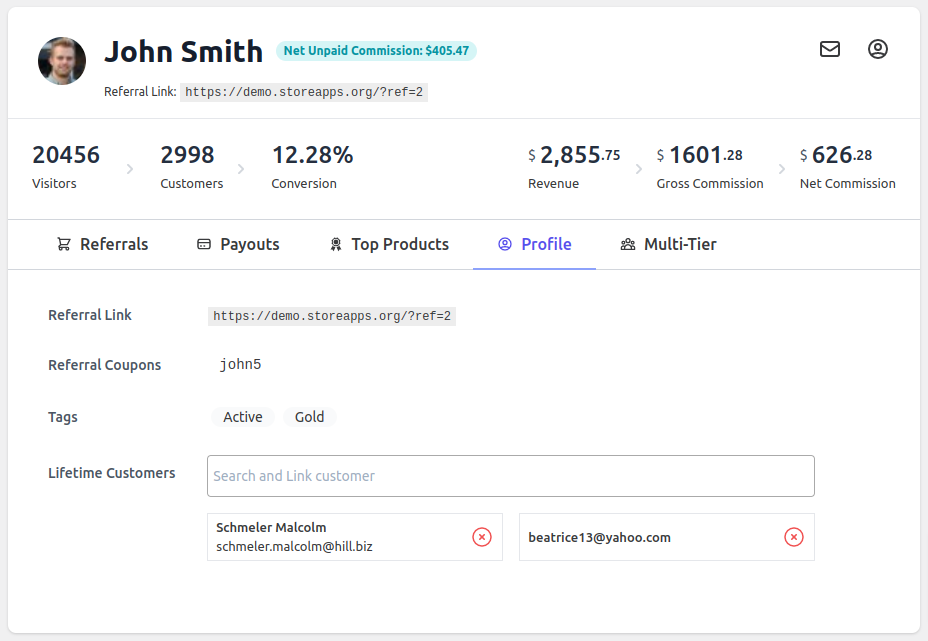 Your dashboard will show your commission in British sterling pounds however, the pay-outs are actioned through PayPal so you will receive the equivalent amount in your currency.
You will receive a unique link with an ID number at the end. Example: https://knotandfleur.com/ref/1217
You can use your online affiliate dashboard to navigate to your profile and change your ID to your shop name. For example https://knotandfleur.com/ref/wyldweddings
You will also be able to change the landing page to https://knotandfleur.com/product-category-online-print-shop/ref/wyldweddings so your customers land directly on our print shop section.
You can add your PayPal details through your affiliate profile on your dashboard. This will allow you to receive your weekly pay-outs.
HOW CAN I OPTIMISE MY PARTNERSHIP WITH KNOT AND FLEUR?
The best way to succeed is quickly to start active promotions. If you postpone, you will not see results. If you take quick action, you may as well become one of our superstar partners!
If you have an Etsy or Ebay shop or an E-commerce, please add your referral link to your listing description as well as on the order confirmation email to your customers. This is the best way to ensure a higher amount of successful referrals!
We encourage to copy-paste the below paragraph if you are stuck for ideas!
PRINTING PARTNERS: For our UK customers – We have partnered with Knot and Fleur and we highly recommend them for all your all printing needs and extra wedding accessories like favours or wedding arches! Please follow the link below to complete your order and get Free Delivery and Free Envelopes on us!
*insert your unique referral ID link here* 
IF YOU ARE AN AWESOME DESIGNER AND YOU WANT TO JOIN THE KNOT AND FLEUR AFFILIATE PROGRAM, FILL IN THE BELOW APPLICATION FORM. WE CAN'T WAIT TO HEAR FROM YOU!
---
BECOME A PARTNER TODAY