As the leaves turn golden and the air becomes crisp, autumn casts a spell of enchantment over the UK countryside. It's a season of transformation, where nature's vibrant hues inspire romantic weddings. For couples who choose to tie the knot during this magical time, the choice of wedding flowers becomes an integral part of their celebration. In this blog, we'll explore the exquisite world of autumn wedding flowers in the UK, showcasing the rich palette and unique options that this season offers.
The Autumnal Palette
Autumn arrives in the UK with an explosion of colours, from deep burgundies and rustic oranges to earthy browns and elegant shades of gold. These captivating hues are the hallmark of this season and serve as the perfect backdrop for a wedding filled with warmth and romance.
Burgundy Elegance
Deep burgundy, often associated with autumn, is a luxurious choice for wedding flowers. Dark red roses and dahlias create a sense of opulence that suits the season beautifully. These flowers can be paired with greenery such as eucalyptus and ivy to balance the richness.
Sunset Hues
Embrace the fiery colours of autumn with flowers like orange and coral roses, marigolds, and chrysanthemums. These warm shades evoke the beauty of a setting sun and add a vibrant touch to your wedding decor.
Golden Glamour
Gold symbolizes wealth and prosperity, making it a fitting choice for autumn weddings. Incorporate golden accents in your floral arrangements with flowers like sunflowers, marigolds, or even spray-painted leaves. This choice radiates elegance and warmth.
Earthy Tones
For a more rustic and natural look, opt for earthy tones such as brown, terracotta, and sage green. Incorporate these colours through flowers like dried hydrangeas, pampas grass, and succulents. These arrangements capture the essence of the changing seasons.
Autumn Floral Arrangements
Autumn wedding flowers offer a wide range of possibilities, allowing you to create arrangements that align with your wedding theme and personal style. Here are some exquisite autumn floral arrangements to consider:
Bouquets
Your bridal bouquet is the ultimate accessory, and autumn offers a wealth of choices. Consider a cascading bouquet with rich reds and deep purples, featuring roses, calla lilies, and dahlias. Add texture with eucalyptus leaves and berries for a truly autumnal feel.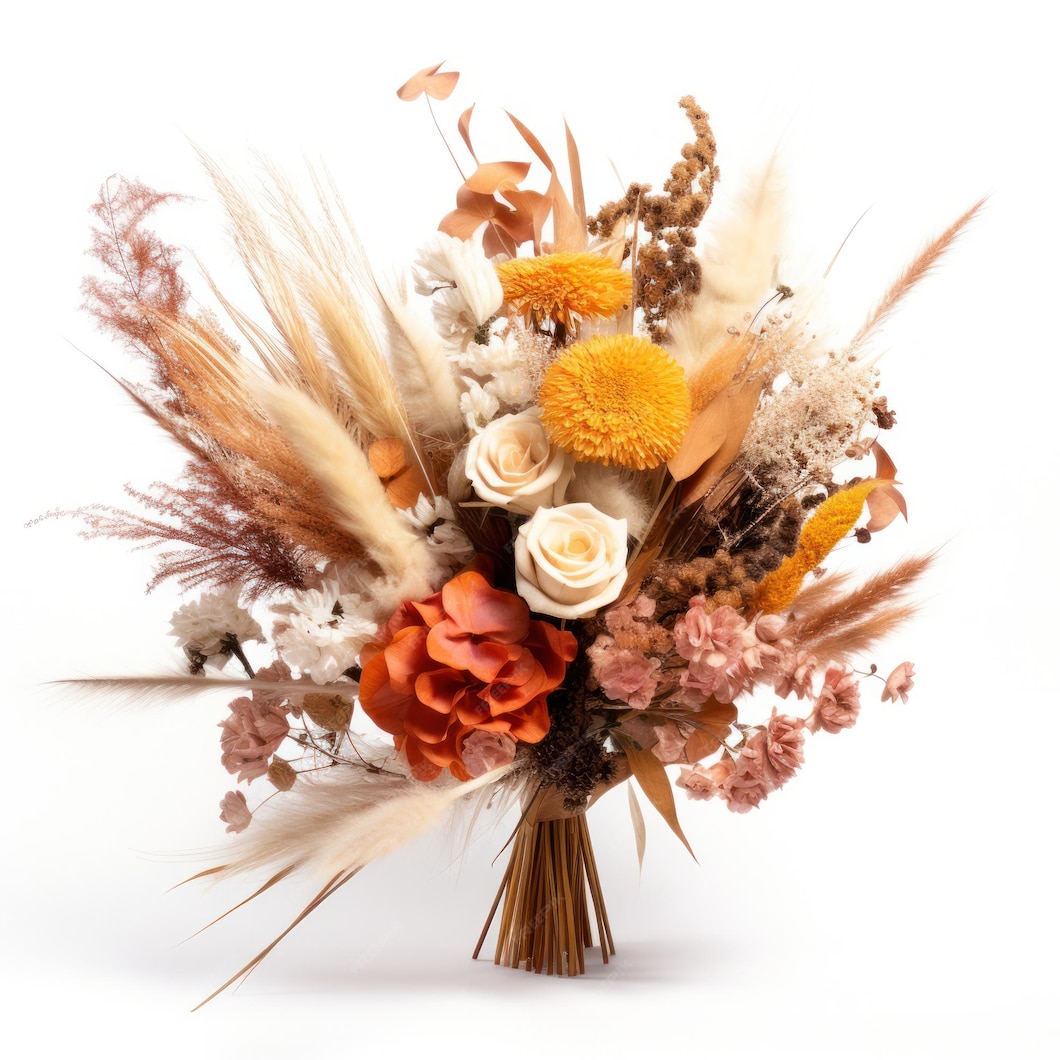 Centrepieces
Your reception tables can come alive with the right floral centrepieces. Place mason jars filled with sunflowers, dahlias, and wildflowers atop wooden slabs for a rustic touch. Alternatively, opt for tall, elegant arrangements of orchids, hydrangeas, and thistles for a more sophisticated look.
Arches and Aisles
If you're having an outdoor ceremony, consider decorating arches and aisles with autumn blooms. Create a breath taking archway with cascading ivy, roses, and dahlias. Line the aisle with pumpkins and lanterns filled with marigolds for a charming fall vibe.
Wreaths
Wreaths are a versatile option for autumn weddings. Hang them on doors, chairs, or use them as table centre pieces. Incorporate elements like pinecones, acorns, and berries for a natural touch.
Floral Crowns
For a bohemian twist, consider floral crowns for the bridal party and flower girls. These can be adorned with small blooms like baby's breath, wildflowers, and small roses.
Seasonal Blooms in the UK
To ensure your wedding flowers align with the season, it's essential to choose blooms that are readily available in the UK during autumn. Some popular choices include:
Dahlias
These striking flowers come in various colours and sizes, making them a perfect choice for autumn weddings.
Chrysanthemums
Known for their longevity, chrysanthemums come in a wide range of colours and add a beautiful texture to arrangements.
Roses
While roses are available year-round, certain varieties like deep red or orange roses are particularly fitting for autumn.
Sunflowers
These cheerful blooms are synonymous with the harvest season and can add a vibrant touch to your wedding decor.
Hydrangeas
With their large, fluffy blooms, hydrangeas add a touch of elegance to any arrangement. They come in various shades, including deep purples and burgundies.
Eucalyptus
This fragrant greenery complements autumn blooms beautifully and adds texture and depth to arrangements.
Ivy
Ivy vines can be used to create lush, cascading arrangements or to adorn arches and aisles.
Personalizing Your Autumn Floral Choices
While the season provides a wealth of inspiration, it's essential to infuse your personality into your floral choices. Consider the following tips:
Consult with a Florist
Work closely with a professional florist who can guide you on which flowers are in season and how to incorporate them into your wedding decor.
Add Personal Touches
Incorporate elements that reflect your love story or shared interests. For example, you could include flowers that are native to your hometowns or the place where you met.
Consider Sustainability
opt for locally sourced and seasonal flowers to reduce your wedding's carbon footprint. Additionally, you can choose to donate or repurpose your floral arrangements after the wedding.
DIY Elements
If you're the creative type, consider incorporating DIY floral elements, such as handmade flower crowns or centrepieces.
In conclusion, autumn weddings in the UK offer a spectacular canvas for creating memorable moments. With the abundance of colours and floral choices available during this season, you can design a wedding that captures the essence of autumn's beauty. From bouquets to centrepieces and arches, your choice of autumn wedding flowers can transform your special day into a breath taking celebration of love amidst nature's most splendid show.