Stepping back in time to the golden era of Hollywood, a Vintage Hollywood Glam wedding is a celebration that combines opulence, elegance, and old-world charm. With its luxurious atmosphere, red-carpet aesthetics, and vintage allure, this theme offers a timeless and captivating backdrop for your special day. In this guide, we'll take you through every step of planning your own Vintage Hollywood Glam wedding, from decor to attire, to ensure a celebration that exudes vintage glamour and sophistication.
 Choosing the Venue
Selecting the perfect venue is the first step in bringing your Vintage Hollywood Glam vision to life. Look for venues that exude classic charm and have elements reminiscent of old Hollywood. Grand ballrooms, historic theatres, and elegant estates are ideal choices. Ensure the venue has enough space to accommodate glamorous decor and a dance floor for the evening's festivities.
Invitations and Stationery
Set the tone for your vintage affair with invitations that evoke the glitz and glamour of Hollywood's yesteryears. opt for art deco-inspired designs, black and white colour schemes, and touches of gold foil. Consider adding elements like vintage movie tickets or Hollywood star motifs to your invitations. Carry this theme through your stationery, including programs, place cards, and menus.
Attire for the Couple
For the bride, a Vintage Hollywood Glam wedding calls for a gown that epitomizes elegance and sophistication. Think classic silhouettes with intricate beadwork, lace, and luxurious fabrics like satin. Consider a dramatic train and a statement headpiece to complete the vintage look. Grooms can channel the dapper leading men of the past with tuxedos featuring peaked lapels and bow ties. Don't forget the accessories, such as long gloves, vintage-style jewellery, and perhaps even a faux fur stole for added glamour.
Decor and Design
Décor is where the Vintage Hollywood Glam theme truly shines. Create an atmosphere of old-world charm by incorporating opulent elements such as crystal chandeliers, cascading drapes, and gilded frames. Tables adorned with sequined tablecloths and centrepieces featuring ostrich feather arrangements or tall candelabras add a touch of 1920s extravagance. Incorporate vintage movie posters or framed stills of Hollywood icons for a personalized touch.
Entertainment and Music
A Vintage Hollywood Glam wedding demands entertainment that transports your guests to the golden age of cinema. Hire a live jazz band or a swing orchestra to serenade guests during cocktail hour. For the reception, consider a live band that can play classics from the era as well as modern hits.
Cuisine and Cocktails
Craft a menu that combines classic favourites with a touch of modern flair. Serve hors d'oeuvres inspired by iconic Hollywood dishes, like mini sliders and gourmet popcorn. Incorporate a signature cocktail named after a legendary star. Champagne towers add a touch of vintage elegance, while a dessert table featuring classic treats like macarons and chocolate truffles will delight your guests.
Photography and Videography
Your Vintage Hollywood Glam wedding will be a feast for the eyes, so ensure you have skilled photographers and videographers to capture every enchanting moment. Collaborate with your photography team to create black and white shots or sepia-toned images that encapsulate the vintage atmosphere.
Transportation
When it comes to transportation, consider arriving in style in a classic vintage car. A sleek black or white Rolls-Royce, a glamorous convertible, or a vintage limousine can make a grand entrance that aligns perfectly with the theme.
Hair and Makeup
For the bride, hairstyles reminiscent of iconic Hollywood stars like Marilyn Monroe or Audrey Hepburn are the way to go. Think soft waves, pin curls, or a chic updo adorned with vintage-inspired hair accessories. For makeup, focus on bold lips, winged eyeliner, and defined brows to capture the essence of vintage Hollywood glamour.
Photo Booth
Set up a themed photo booth that resembles a vintage movie set. Provide props like oversized sunglasses, feather boas, and top hats for guests to create memorable snapshots. You can even include a backdrop that resembles a classic Hollywood red carpet event.
 Wedding Favours
Show your appreciation to your guests with wedding favours that reflect the theme. Consider giving out personalised popcorn bags or boxes filled with gourmet popcorn, vintage-style movie ticket stubs, or miniature bottles of champagne. These thoughtful touches will keep the Hollywood Glam experience alive even after the celebration.
Wedding Cake
The wedding cake is an opportunity to incorporate the theme into your culinary delights. Choose a cake design that showcases elements like art deco patterns, intricate lacework, or even a cake topper inspired by vintage Hollywood couples.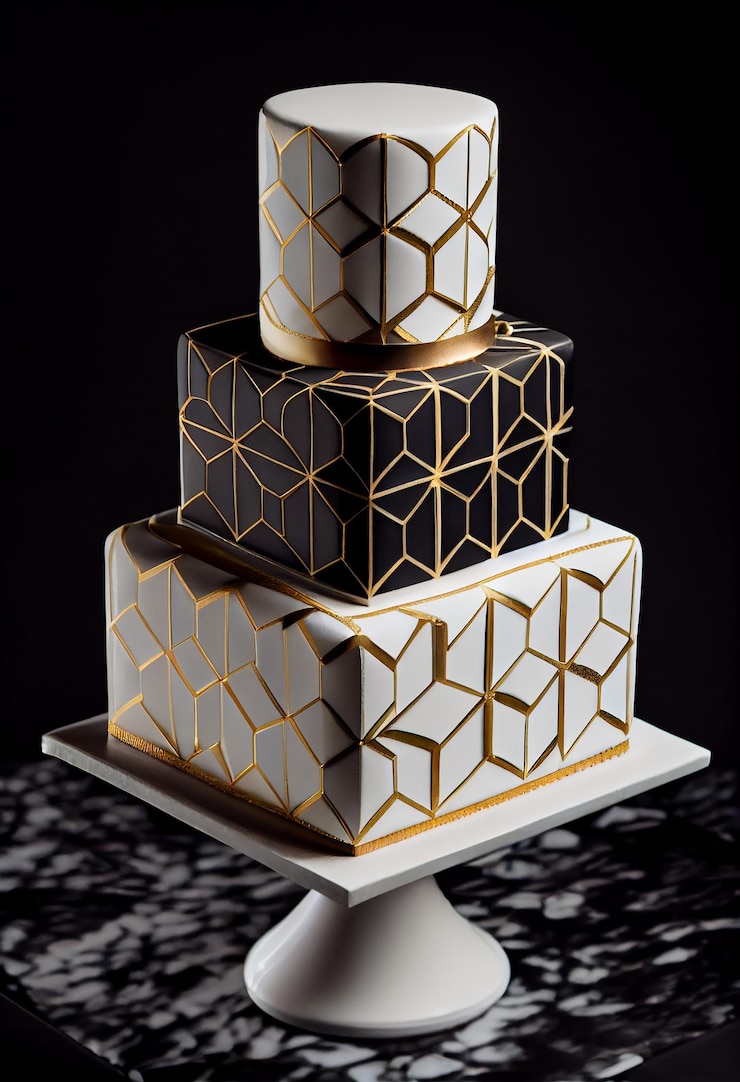 Entertainment
Incorporate entertainment that transports your guests to the enchanting world of old Hollywood. Hire impersonators of famous Hollywood icons to mingle with guests and provide entertainment. You could also have a classic movie screening as part of the reception, featuring films from the era.
Table Settings
Use vintage China, crystal glassware, and silverware to create an air of elegance. Place settings with classic gold calligraphy and vintage Hollywood-themed place cards will add a personalised touch.
Lighting and Atmosphere
The right lighting can transform your venue into a glamorous Hollywood setting. Consider incorporating soft, warm lighting with chandeliers, candlelit centrepieces, and up lighting to create an intimate and romantic ambiance.
Red Carpet Entrance
Elevate the glamour of your wedding by creating a red-carpet entrance for your guests. Set up velvet ropes, gold stanchions, and even a backdrop for photo opportunities. As your guests walk the red carpet, they'll feel like stars attending a Hollywood premiere.
A Vintage Hollywood Glam wedding is a celebration that transports you and your guests to a time of elegance, sophistication, and enchantment. By carefully curating every detail, from the venue to the decor, attire, and entertainment, you can create a wedding day that encapsulates the allure of old Hollywood. As you embark on this journey, remember that your wedding is not just an event; it's a cinematic experience that tells your unique love story in the most glamorous of ways.